11th Annual Brew Cup 2012 Astoria, Oregon
The Pacific NW Brew Cup was held September 28th to the 30th and was located at the old railroad depot at the east end of the maritime museum parking lot. The space was larger this year and the fest brought in record attendance, so large in fact, that on Saturday afternoon they ran out of tasting glasses and resorted to two previous years left over glasses, then wine glasses for people coming in on Saturday evening! All told the attendance was around three thousand people over the three days. Being right on the river front made for great views of the ships anchored and boats passing by. The trolley car was also running, making available a ride for people that stayed in some of the local hotels in town. 36+ beers and Cider were on tap this year including such great selections as: Ft George's "Fresh Hopped Vortex IPA", Astoria Breweries " Solar Dog IPA" and Bills Tavern and Brew House "Duck Dive Pale Ale from local coast breweries. Some of my favorites this year were Boneyard Brewing's "RPM IPA", Laurelwood's "Moose & Squirrel Imperial Stout, Everbody's Brewing "Country Boy IPA, Three Creeks "HooDoo Voodoo IPA, and more! There were many great beer choices by breweries such as; Prodigal Son, Migration Brewing, Goodlife Brewing, Rusty truck, Oakshire and more. Dancing, live music, and food vendors were present, as well as the Kids game area for the younger crowd. The first keg to blow was Eugene City Brewing's "Honey Orange Wheat" , earning it the "Thar She Blows" award and Two Kilts Brewing's "Scotch Ale" took the peoples choice award, winning the Beer Cup for 2012.
This years fest was organized and ran by the Astoria Downtown Historic District Association. Thanks to Jack Harris of Ft George Brewery for arranging the beer selections and all the people who staff this event and make it happen!

Welcome to the Fest! this is the east end of the Maritime museum parking lot, just at the
end of the old RR depot. The railroad depot is being restored and should be finished soon.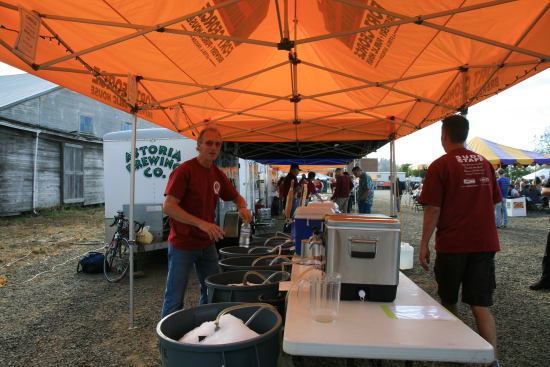 Paula and I arrived Friday afternoon. The weather was great and the Friday crowd was light.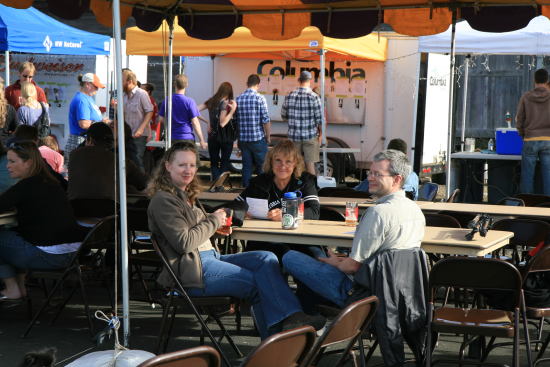 A few regular festival attendees!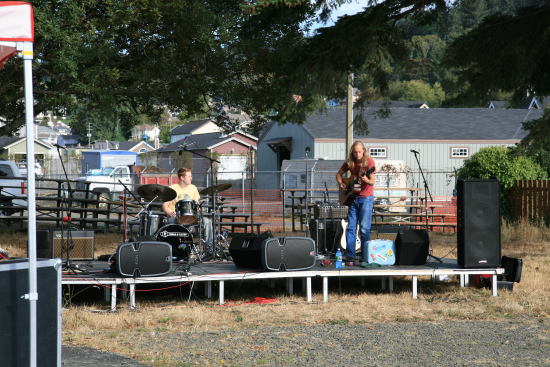 Edmund Dwayne playing in the early evening right after we arrived on Friday.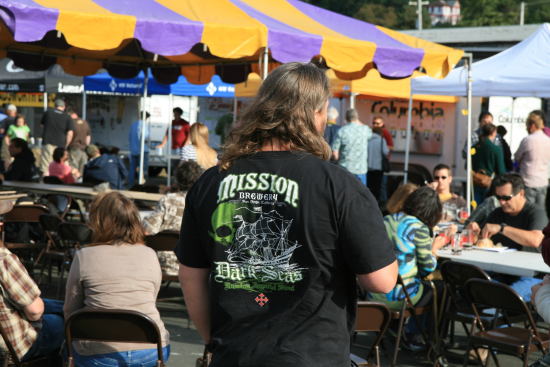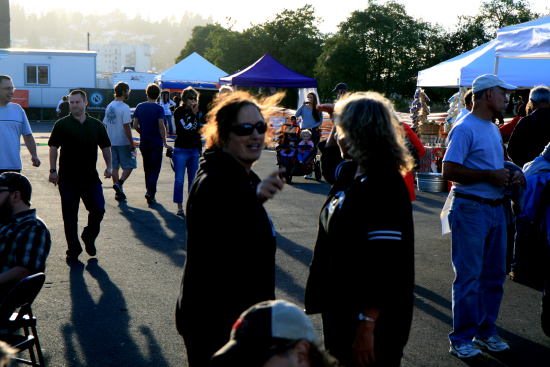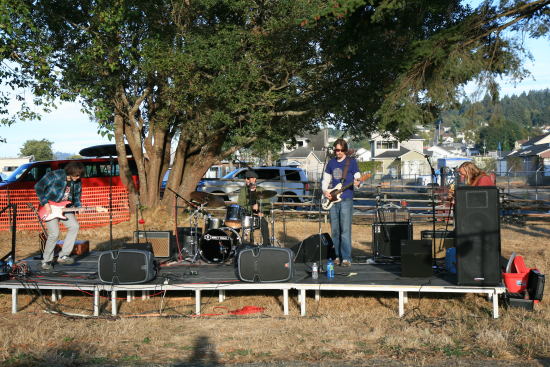 The music group River Giant.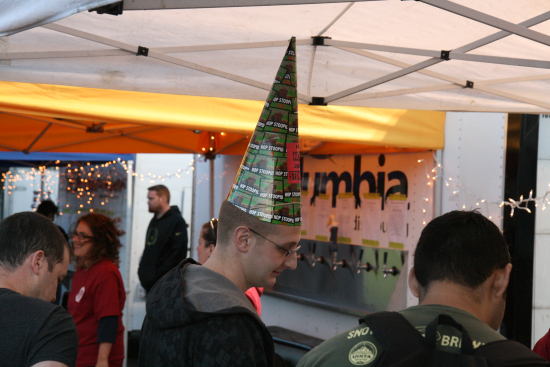 This Guy had a custom hat made out of Hop Stupid Beer labels. I think someone let him out of his corner...
Moon rise over the festival site.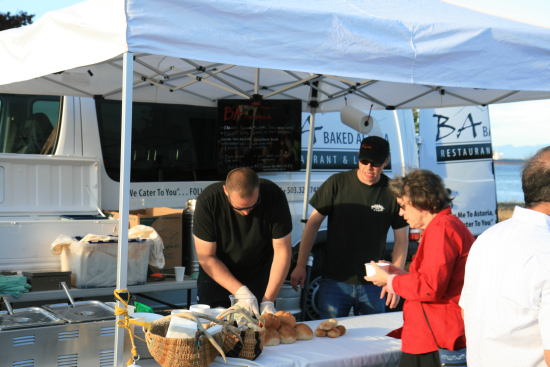 The Baked Alaska food booth had some awesome choices. We had clam chowder in a bread bowl and Salmon sliders!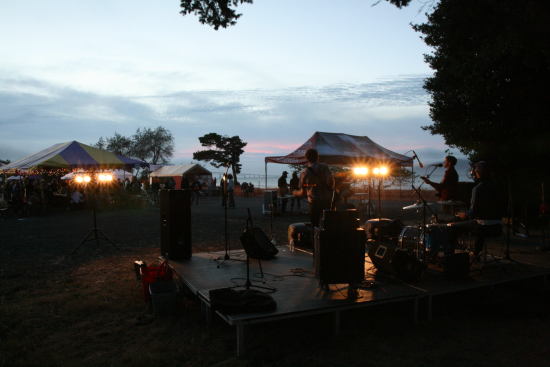 Night arrived while River Giant was still on stage.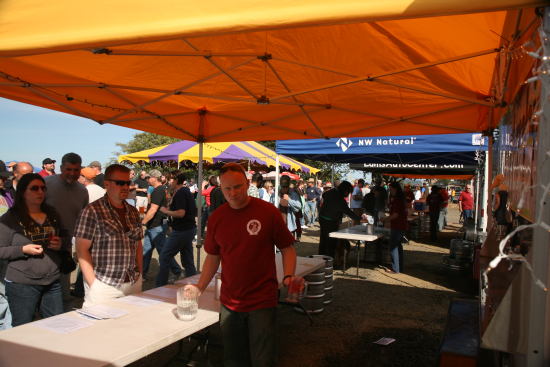 We Arrived at the fest around 3pm on Saturday. There was a good size crowd already at that time.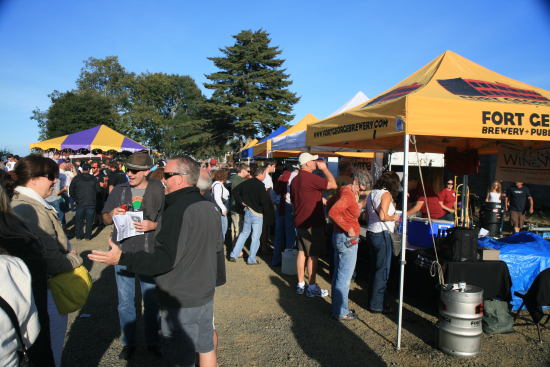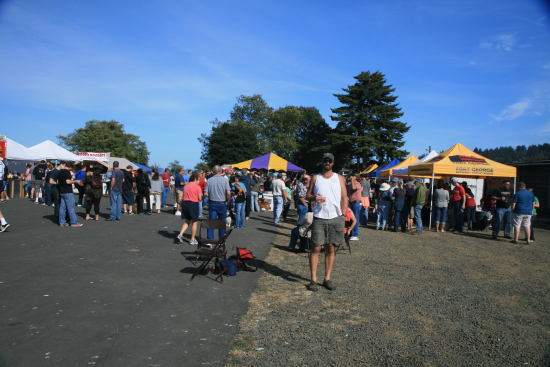 The view looking east. Beer tents on the right, food vendors on the left, seating, tents and tables in the center.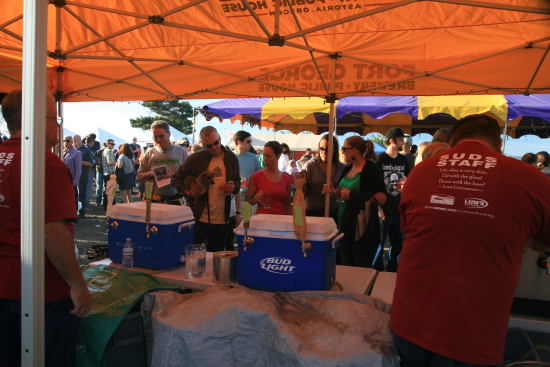 A typical crowd waiting to get a taster fill of brew. When one of the tap stations gets real crowded;
like more than three or four people waiting....I move along to another one. That's why I love this fest!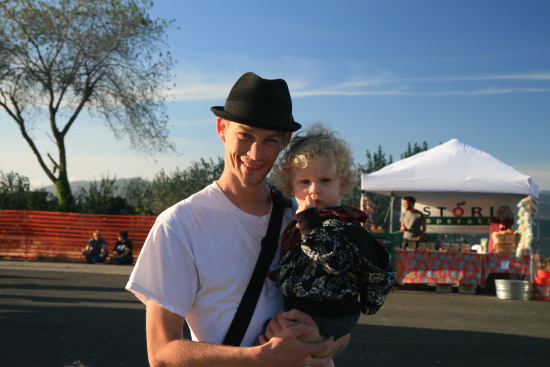 John Dalgren and son Lincoln.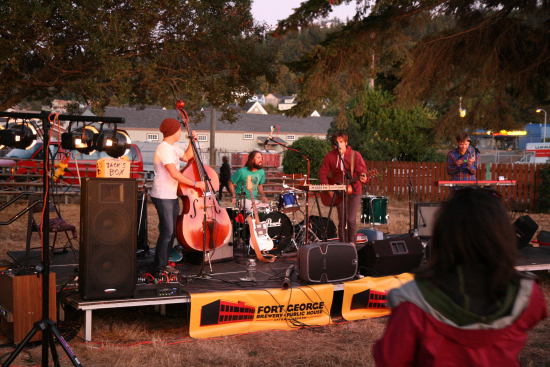 Holiday Friends playing this set.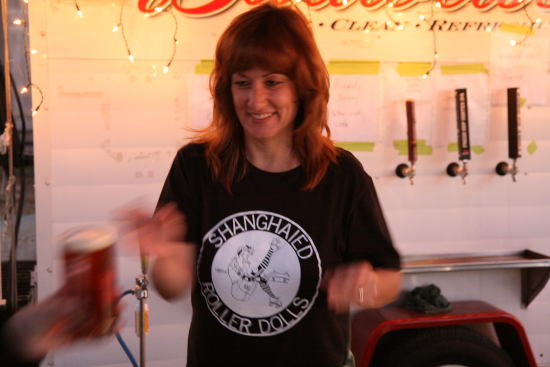 Astoria's local roller derby girls volunteered to serve beer on Saturday.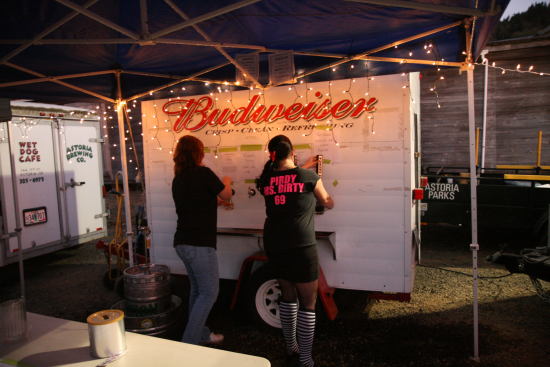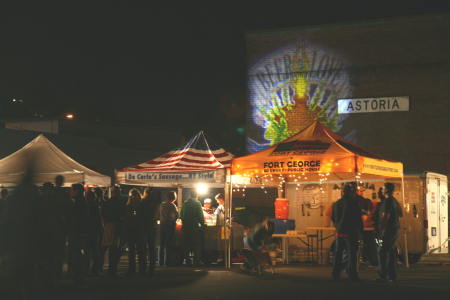 Last of all, a picture from two years ago that is the reason for the fest, "Beer Love" projected up on the wall of the old Railroad depot.


Click on this link for video of the brew fest on U Tube.
This beer festival just keeps getting better. The weather was great, the location is awesome and the beer selection was quite nice this year. There were a few fresh-wet Hop Ales on hand and a great selection of beers you don't find on your local store shelves. If you have not yet been to Astoria for this brew fest, you should make plans for the last full weekend of September in 2013. Great music, food and no waiting in long lines for beer tasting makes for a relaxed fun event!
Be sure and stop in to sample some of the fine Ales that Astoria's local brew pubs are offering the next time you are in town.
Cheer and Beers!
photographer and commentary by Alan Johnson
---
Return to opening page? click here: Deer Island Brew
Or click your back button to return to news and events.