12th Annual Brew Cup 2013 Astoria, Oregon
What a weekend it was! This years Beer fest was attended by record wind and rain. I was told that Astoria had the most rainfall on this weekend then anywhere in the lower 48 states. That did not dampen the spirits of those faithful festival attendees that were looking forward to this annual event. The big tent's didn't do much to stop the rain as it blew in sideways and saturated all the chairs and tables, but when I looked around I noticed that like myself, many people had the classic coastal wear of rain coat and pants plus rubber boots. We were ready to bear the storm and drink some brew!
The Pacific NW Brew Cup was held September 27th to the 29th and was located at the old railroad depot at the east end of the maritime museum parking lot on Friday but then moved to a more sheltered location in the city at the Astoria event center.
There were many interesting Beers on tap like, "Next Adventure Black IPA" from Fort George, "Lucille IPA" by Georgetown Brewing, "Cherry Bomb" a barrel ages sour Terminator Stout, by McMenamins, "Worthy IPA" from the recently new brewery in Bend, Oregon; Worthy Brewing, "Old Red Beard Amber" from Astoria Brewing Co., "Odins Oatmeal Stout" from Bills Tavern in Cannon Beach, "Fantastic Voyage IPX" from Hopworks Urban Brewery and many more fine brews. Live music, and food vendors were present, as well as the Kids game area for the younger crowd that had a dry spot in the old railroad depot and a corner at the Astoria event center on Saturday. The first keg to blow was Three Creeks Brewery "Five Pine Porter" , earning it the "Thar She Blows" award and Prodigal Son Brewery "Bruce Lee Porter" took the peoples choice award, winning the Beer Cup for 2013. As we all bundled up and dodged the rain I think it is fitting that both awards went to darker cooler weather beers.
This years fest was organized and ran by the Astoria Downtown Historic District Association. Thanks to Jack Harris of Ft George Brewery for arranging the beer selections and all the people who staff this event and make it happen!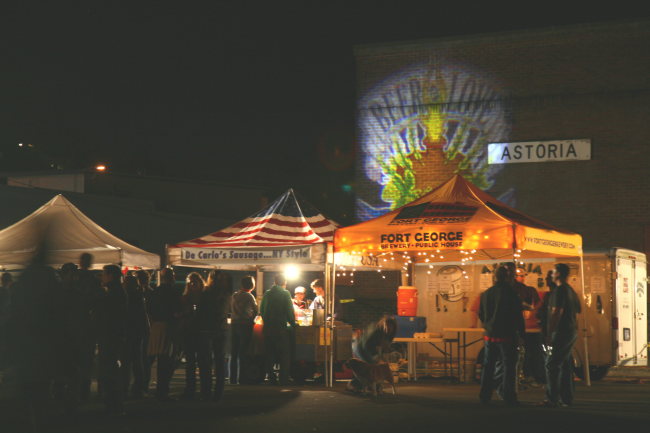 I thought I would start with a picture I took at the 2010 brew fest. The guys from Ninkasi brought a projector and had this "Beer Love" graphic against the wall of the old Railroad depot. I have seen this photo is kind of popular as I have seen it on other web sites relating to the Astoria Brew Cup Beer fest.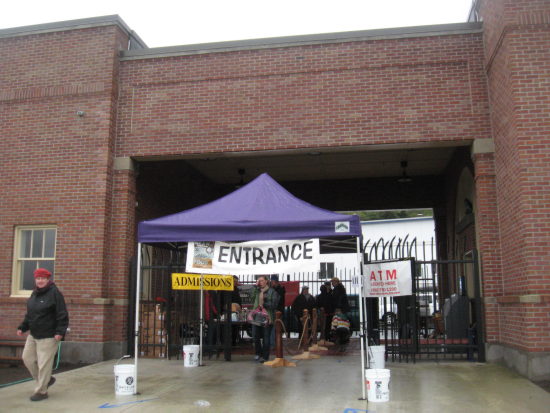 The entrance to the fest was in the breezeway of the newly restored Railroad depot.
A great place to get glasses and beer tokens out of the rain.!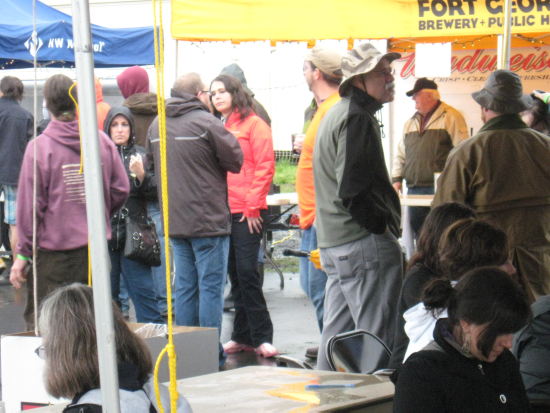 Someone in this picture tried very hard to dodge my camera. I wonder who......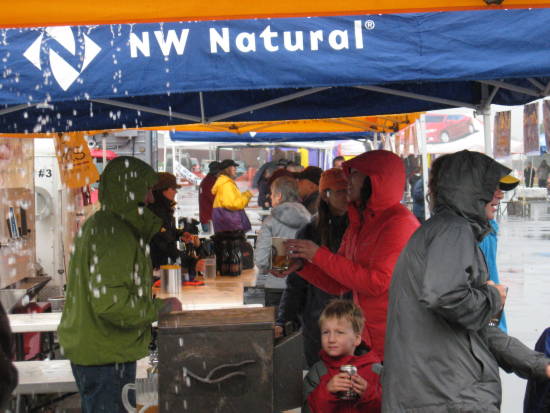 Ah, a classic picture of rain running off a tent shelter. The little boy
doesn't look to excited to go back out in the rain, does he?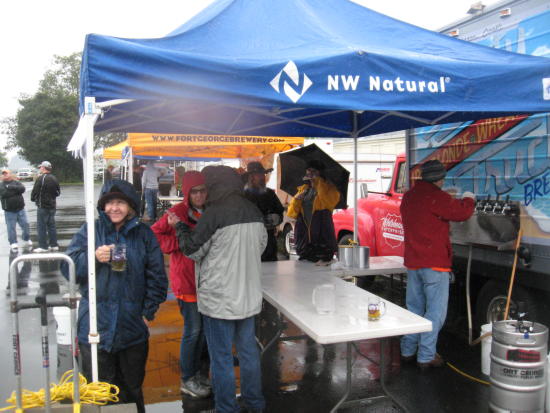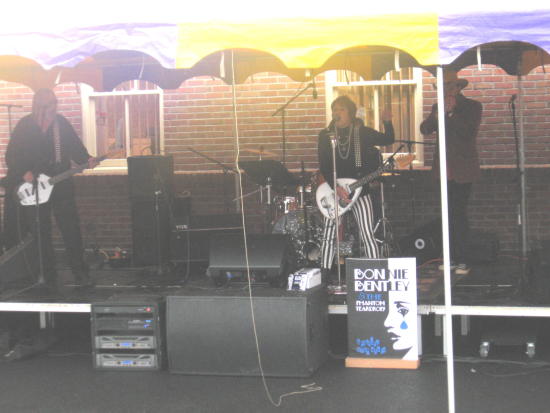 Bonnie Bentley was playing when we arrived Friday afternoon.
The band tent was against the RR depot and one of the driest spots!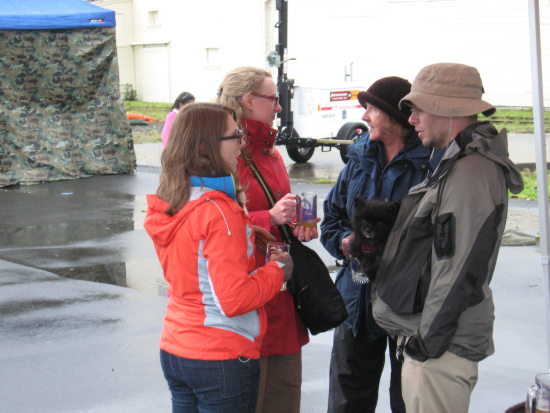 A few regular festival goers.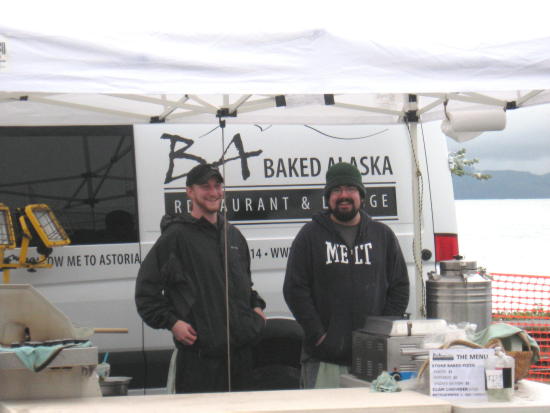 The guys from Baked Alaska were serving smoked salmon chowder and Pizza.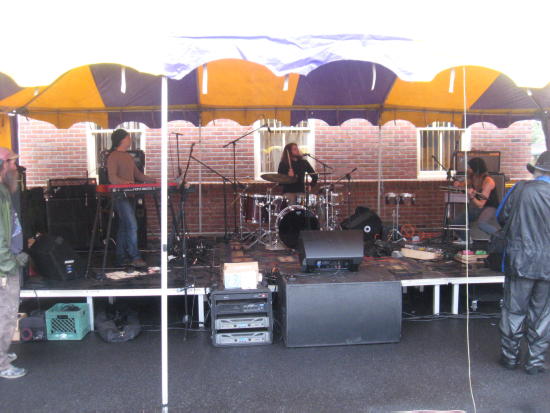 The Scott Pemberton Trio on stage.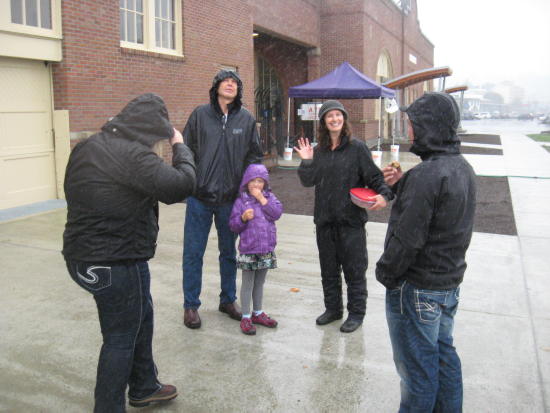 Jennifer Holen is always here, rain or shine. Jennifer and her husband Chris
who own and operate the Baked Alaska restaurant, started this fest 12 years ago.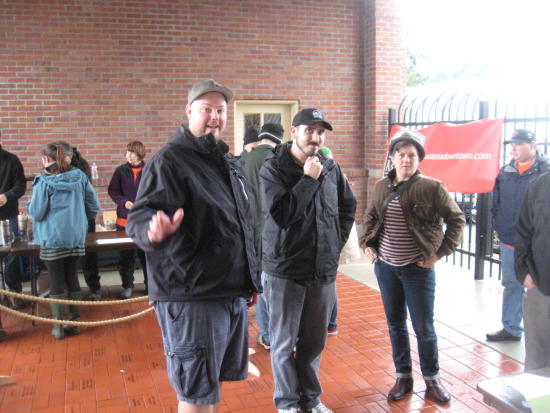 Chris Nemlowill from Fort George Brewery always drops in at the fest for awhile.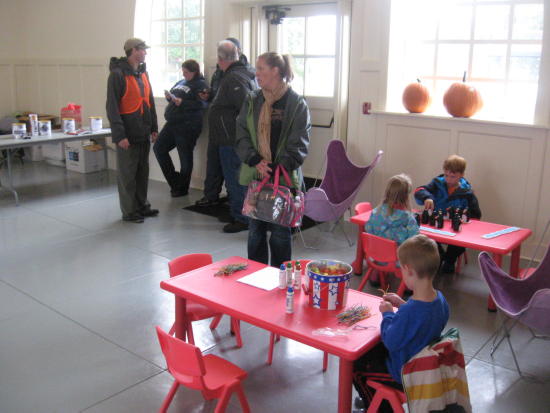 The Kids corner in the RR depot. Jack Harris from Fort George Brewery
wearing the full rain gear and red vest was everywhere keeping tabs on activities.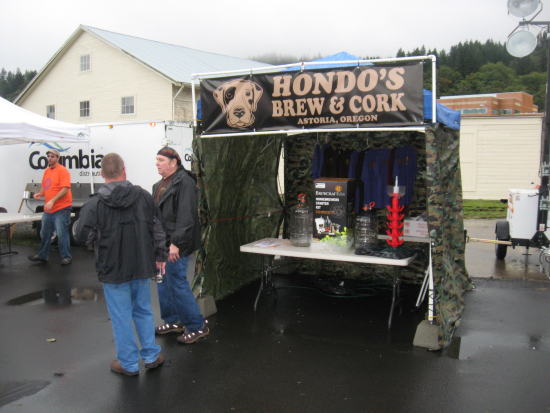 Hondo's Brew & Cork. Hondo's recently began brewing on site becoming one of Astoria's newest brew pub. Hondo's has some great Micro's on tap and is a homebrew supply shop as well.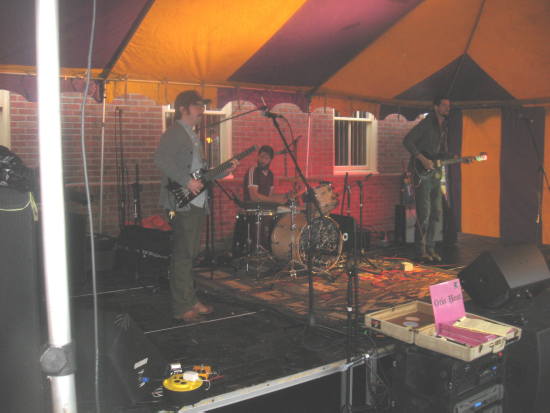 Otis Heat on stage.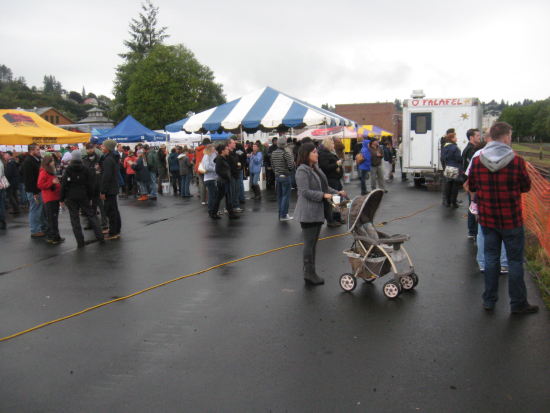 Gee, I wonder what everybody is looking at...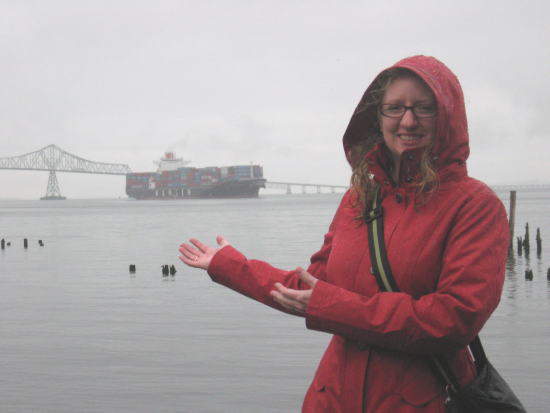 It's just Heather Bee excited to see a Hanjin container ship coming up river.
Just how serious is Heather about Hanjin ships? Click here to see the video we captured!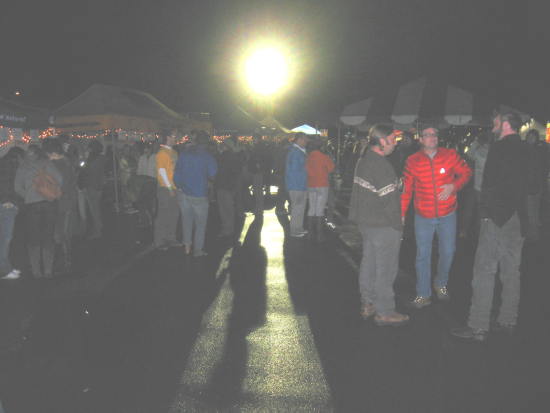 As night falls at the festival, the rain slowed down a bit, bringing more people out for the event.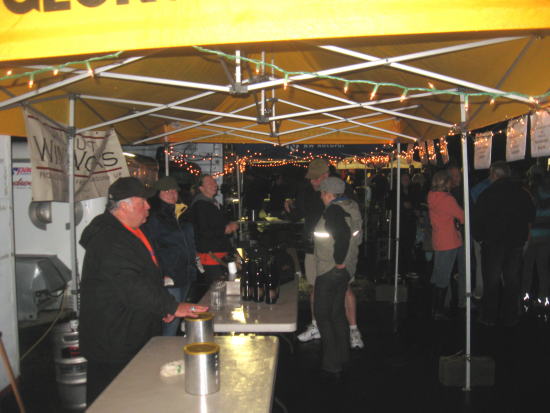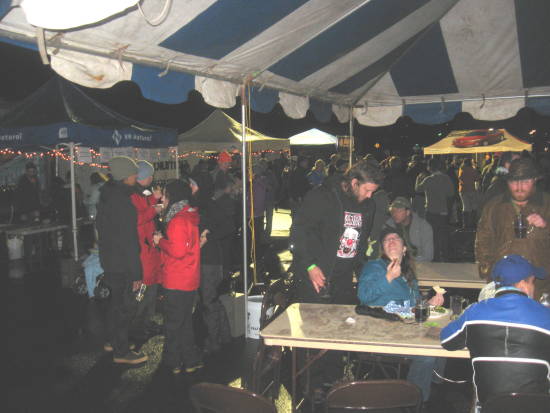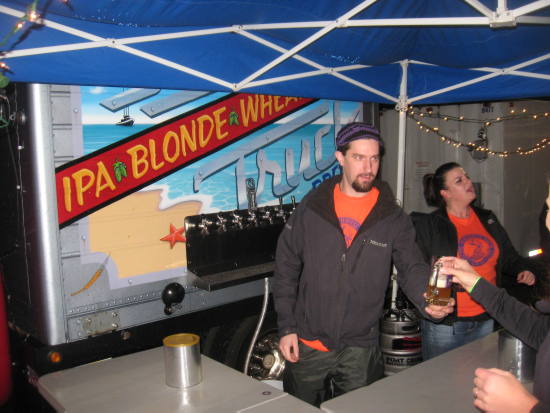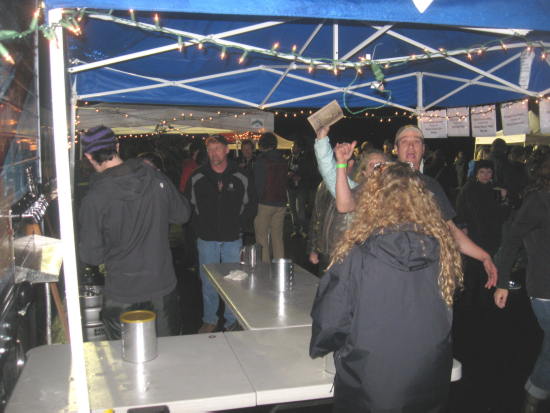 Hey now, there's a couple of people excited to be here!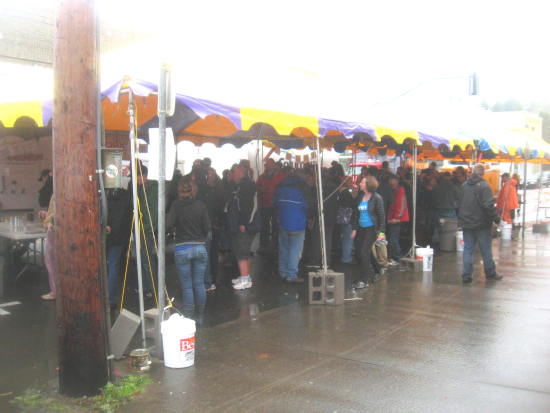 Saturday found the festival moved to a new location to dodge the rain and wind.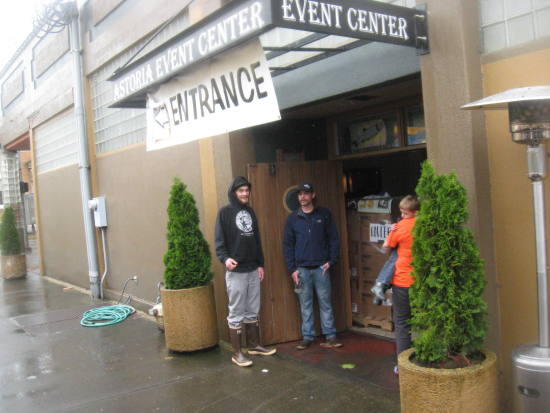 The Astoria event center provided a dry indoor location for music, food and seating. Astoria Brewing Co's head brewer, John Dalgren stopped by for a visit. Those rubber boots come in handy when brewing beer and wading through the water logged street's!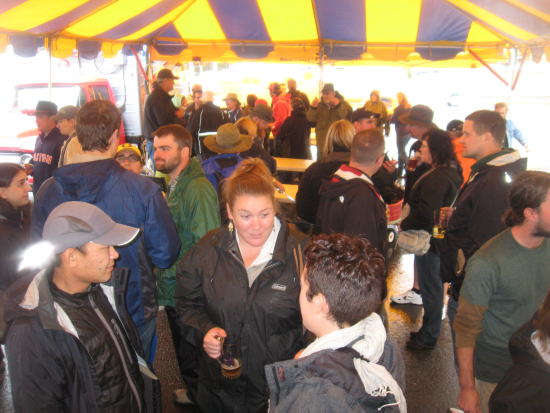 There was a decent crowd under the long tent where beer was being poured. How hard was it raining?
click here for a short video!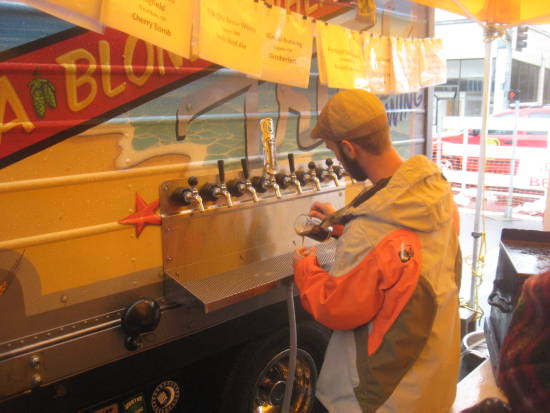 Pouring from the Rusty Truck Brewing station.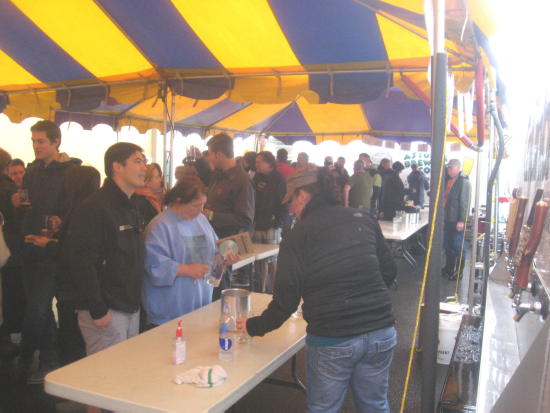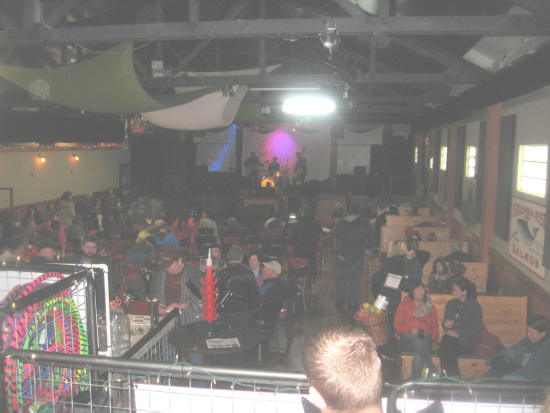 Inside the Astoria Event Center. Music, Food and a corner for kid's activities were provided.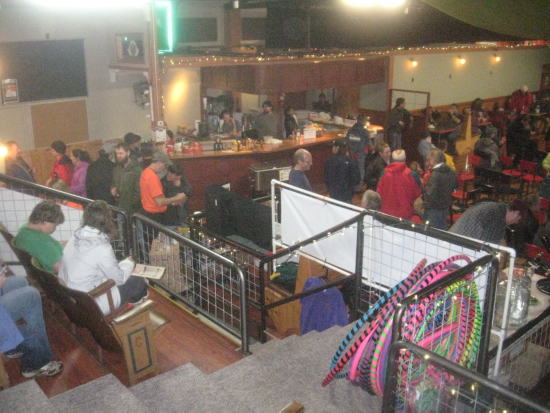 And so another year has come and gone. We look forward to the typical sunshine
to be back for next years event.
Although the weather was wet and windy, it did not dampen spirits. The location in Astoria is awesome, the crowds are generally light and the beer selections are always great! If you have not yet been to Astoria for this brew fest, you should make plans for the last full weekend of September in 2014. Great music, food and no waiting in long lines for beer tasting makes for a relaxed fun event!
Be sure and stop in to sample some of the fine Ales that Astoria's local brew pubs are offering the next time you are in town.
Cheer and Beers!
photographer and commentary by Alan Johnson
---
Return to opening page? click here: Deer Island Brew