fermentation and storage room
---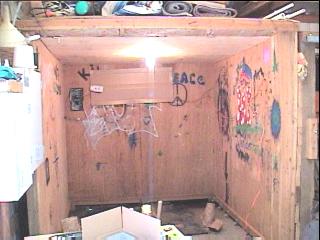 I started by insulating the roof and putting in an insulated floor. This area has concrete under it with a sloped floor, so I had to frame it level.
This is what the room looked like in the beginning. It was framed in with T-111 siding and had graffiti painted all over the walls. It measures about 8 x 9 feet, and finished with a wall height of about 7 foot 8 inches. I think it was originally a tack room for the barn.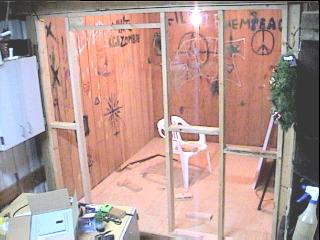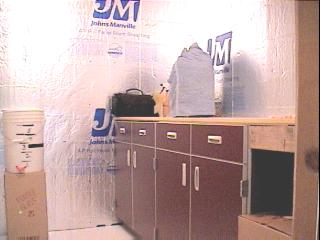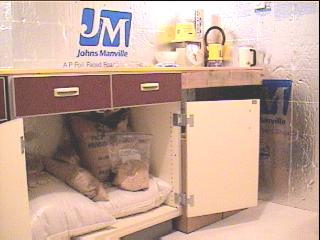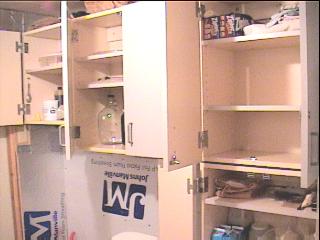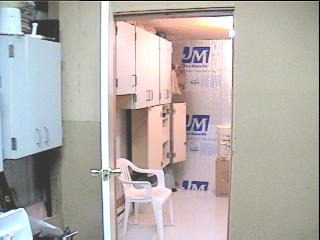 Stepping outside the room, you can see the cupboard side of the wall, and if you look closely behind the chair against the wall, you'll see the baseboard heater. This was a much anticipated project. I'm happy to be finished and using the room now!
On the other side of the room I have lots of cupboard space for storage of small amounts of specialty grains, racking equipment, airlocks and stoppers, cleaning supplies and other miscellaneous items.
The cabinets are very nice as I have room for bulk grain storage and other items. To the right of this cabinet, is an open space under the counter, that I use to store my carboys in the original cardboard boxes. I have my scales to this side and use this part of the bench for weighing grain and hops.
The inside walls were insulated with 1/2 inch foam panels and I put linoleum tile down on the floor. I installed base cabinets on the right and set a counter top across the full length of the room. I use most of this space on the left part of the counter, for carboys of beer to ferment. I figure I could get as many as nine carboys across the table and still have room left over on the right.
Next came the framing in of the front side and door. I also wired in a light switch, baseboard heater and thermostat. The light switch was installed to the left of the door, and the thermostat to the right. After the framing was covered, the flooring installed and the door hung, I proceeded with insulation of the inside walls.
The fermentation room with conical fermentors.
---