">
Fort George Brewery & Public House,
Now Open!
The greatly anticipated Fort George Brewery and Public House is now open! Located at 15th & Duane street in downtown Astoria, and it is not difficult to find. This project has been awhile in the making, and I was privileged to have Chris Nemlowill give me a tour the Brewery a few times before the opening. This Brewery is a Joint venture between Chris Nemlowill and Jack Harris, formally Head brewer at Bill's Tavern and Brew Pub in Nearby Cannon Beach. Chris began his brewing career working for Jack at Bill's tavern and then served as head brewer at Astoria Brewing & the Wet Dog cafe in Astoria for about a year. The brewery equipment came from Virginia on the east coast and was loaded on a truck and shipped back to Astoria with Jack and Chris at the wheel. There is another story to tell! Apparently they dodged a tornado somewhere in the Midwest on the way back. So stop in when you get a chance and enjoy Oregon's newest Brew Pub at the site of Oregon's oldest community.
This building, like many in Astoria, is of big open beam construction with high ceilings and concrete floor. Right behind Chris, (standing at the end of the bar), you see the large Beer menu board mounted to a steel sided wall. This "large square" in the middle of the Pub is the walk in cooler and houses the serving tanks, guest kegs and all things that need refrigeration. To the right is the kitchen.
My Wife and I arrived at the recently opened Fort George Brew Pub on St Patrick's day. We were greeted right away by Chris and took a seat at one of the hand crafted window booths. Jack was in the spirit of the day, wearing a tall green St Paddies hat for the occasion, as pictured. Five House Beers were on tap that day and we had the sample tray of course! "Vortex IPA" had a nice aroma and was loaded with enough hops to make an IPA fan happy. This hoppiness is complimented with a nice malt backbone to balance. "Beer number 1" was named.....beer #1, because it was the first brew through the system. This is a nice mellow pale ale that had just enough hops to smooth out the brew. "Red Ale" is a very malty brew full of big additions of crystal malt and hints of roasted Barley to give it that deep dark Amber-red color. With just enough hops to keep it from being to sweet, I enjoyed a full pint of this brew. "Cavatica Stout" is a Medium to light bodied stout, with light roasted malt and chocolate notes. An easy drinking Stout. Last on the list was a Wheat Beer with fruit called "Weisse Berry", that I have to admit, I am not really fit to comment on or judge. It is a Wheat beer brewed with Marion berries and raspberries using a Bavarian yeast. Since I am not a fan of Bavarian or German Wheat yeast used in this beer, I have to say try it for yourself! I hear the plan for future beers will be a casual approach of experimentation, refinement and rotating specials, so keep checking in to see what's on tap when your in town!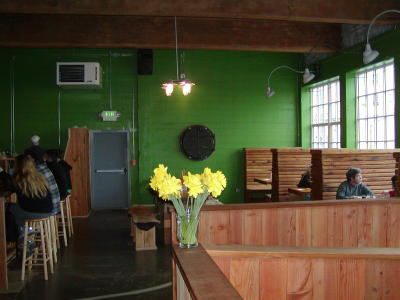 Looking toward the window booths, and west wall. I understand that much of the custom wood work came from salvaged wood around the area.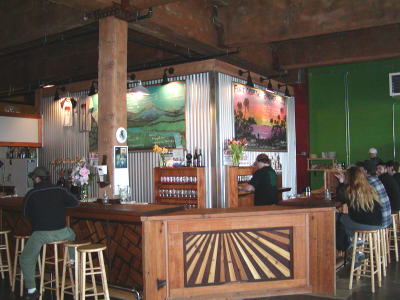 I really have to admire the ornate custom wood work done in the pub. From the bar, window booths and picnic style tables, to the custom wood drip tray under the beer taps, everything was done with a flair for originality. From this photo you see both sides of the bar. Notice the other beer sign board? I really like the art work on both of them! The tap arrangement consists of fourteen taps. As I understand, eventually eight taps will be pouring Ft George brews, four will be guest taps, with the remaining two for Cider and Homebrewed Ginger Ale. Guest taps at the time of our visit were quite impressive, including Ninkasi IPA, Tecate Lager, Caldera Pale, Bill's Bronze, Roots Trippel, Terminal Gravitiy Porter, Hoegaarden Wit and Strong Bow Cider. Three wines were available as well, including Twisted Zin and Fourteen Hands Merlot. The food menu has some interesting specials. There are hand pressed burgers, sausage dishes, rock fish tacos, sea food and steak, as well as soup and salad.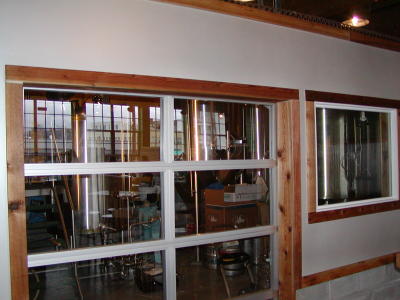 The brewery is located here behind glass and has a cool garage type overhead door that can be pulled up when necessary. I intend to get a better picture of the brewery next time I stop by.
The site for the pub has a bit of history behind it, being the first US community established on the Pacific coast in 1811. Founded by John Jacob Astor, the original fort was named fort Astoria and was run by Astors' Pacific Fur Company. The site of the original fort is right behind the building, up on the next street. There is a replica of the fort there and it is a small city park and historical site. The British took control of the fort in 1813, named it Fort George, and ran it until 1818 when it was returned to US control.
Next time you visit Astoria, be sure to stop by the Fort George Pub. We are hoping that they will have a brew or two on tap for the September "Brew Cup" festival in downtown Astoria. There are many thing to do and see in Astoria, so planning on spending a weekend here at the "Gateway to the Pacific" is always a good idea!
March 2007
Click here for your link to the Fort George Web Site.
Back to the Deer Island web site? Click here.
---