Pubs and Suds
These are a few of our favorite things....
---
Fort George Brewery and Public House
Fort George Brewery and Public House, in Astoria Oregon, is probably the fastest growing brewery and pub in the Northwest. This Brewery is a Joint venture between Chris Nemlowill and Jack Harris. I first met Chris when he became the brew master for Astoria Brewing at the Wet Dog cafe and pub in Astoria. Chris apprenticed at Bill's Tavern and Brew Pub in Nearby Cannon Beach under Jack Harris and shortly after working there, the two teamed up to bring the Fort George brewery into downtown Astoria. The pub and brewery located at 15th and Duane street has been a big success from the start. It quickly expanded into the newly acquired Lovell building next door with much greater production and capacity as well as a nice tasting room in the building.

Pelican Pub & Brewery Pacific City, Oregon
The Pelican Pub and Brewery is one of our very favorites. Located right on the beach at Pacific City Oregon, it hosts a lineup of Micro Brews that have won many an award. It is also has the best IPA (India Pelican Ale) that Paula and I have found yet. The view from the pub overlooks beautiful Cape Kiwanda. While sipping on any of their fine Ales, you may see the Dory boats launching into the surf or landing on the beach. It is a popular surfing spot as well. In the summer the patio is open outside and just a few feet further off the patio there is a volleyball court in the sand, if you need something to do while waiting for a table. The food is good, the beer is great! If you haven't been there yet, make plans. Congratulations Darrin Welch and the Pelican, for "India Pelican Ale" and Kiwanda Cream Ale" taking bronze medals at the Great American Beer Festival 2001. Darrin does it again for 2005 at the GABF. Small Brew Pub of the year, Gold for Kiwanda cream ale and Silver's medals for both Doryman's Dark and McPelican Scottish style!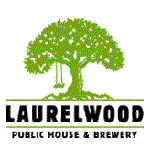 The Laurelwood brew pub. Located in the Hollywood district on 50th avenue and Sandy. The pub makes some very fine Ales, including one of our two favorite IPA's in the northwest, Workman's IPA, Free Range Red, Space Stout and others. The food is good and the atmosphere of the Laurelwood is always pleasant. The brewery is located right next to the pub and restaurant with glass window viewing of the tanks and equipment. Christian Ettinger was the original head brew master there and has won a number of awards for his beer. Chad Kennedy took over when Christian left to create the Hops Urban Brewery. Both of these guys earned a respectable number of medals to hang on the wall.
The Wet Dog Cafe & Astoria Brewing Co. Located on 11th street in Astoria Oregon, right on the water front overlooking the Columbia river, this place has some fine Ales to check out. It is in an old warehouse with high open beam construction. While sipping on a pint of Kick Ass Stout or maybe the Awesome Solar Dog IPA, you have a nice view of the river and are right on the trolley car route that runs up and down the water front in the summer. The head brewer, John Dalgren has been there for awhile now. He even took time off to brush up on brewing technique and apprenticed with the crew at Hops Urban Brewery, which gave him great new ideas and expertise in the brew house. It's a nice stop on your way to the coast. No web site yet but if your in Astoria, just turn on 11th street and drive a couple of blocks toward the river, you can't miss it!

Bridgeport Brewery. Portland, Oregon
BridgePort Brewery is Portlandís oldest craft brewery, opening in 1984. The Brewery and Pub is located in Portland's historic "Pearl District" at 1313 NW Marshall Street. This building is more than a century old. The Pub is built of open beam wood construction and has an upper and lower level bar serving Ale and fresh cooked Pizza. The covered loading dock outside provides additional seating in the summer. BridgePort brews a variety of British style ales including "Firkin style" IPA and Porter. "Firkin" beers are naturally conditioned (not force carbonated) in the bottle, keg or firkin cask from which they are served. These naturally conditioned ales are available on tap daily at the Pub in NW Portland and at their SE Hawthorn location which serves a bigger variety of food. Other ales to try include ESB, Black Strap Stout, Blue Heron Ale and Ebenezer Ale to name a few. BridgePort IPA has won a number of medals in competition and is our personal favorite when we run short of homebrew!
Rogue Brewery. Newport, Oregon
While in Newport, it is always a pleasure to stop at the two locations for Rogue ales, The Rogue Brewery on the South side of the river and the Public house located in the historic water front district. The brewery has a small tasting room up stairs over looking the brewery and the public house has a full restaurant with large seating capacity. There are also a few rooms above the public house to stay in featuring "Bed and Beer" for an overnight stay. I have stayed a night in one of their rooms and can tell you it is huge! John Mair, Head Brewer at Rogue, is always brewing up something new, as well as the extensive regular line-up of Ales by Rogue. My favorites? IPA2. An Imperial IPA, Brutal Bitter and Shakespeare Stout, that just took a Gold medal at the GABF 2005, to mention just a few. John is always winning awards for his brews, so be sure to make Rogue a Brew tour next time you visit the Oregon coast!
Front street Ale House in Friday Harbor, San Juan Island, Washington
Every year my wife and I take a few weeks vacation island hopping on our boat, through the San Juan Islands in Washington State, and the Southern Gulf islands of British Columbia, Canada. The San Juan Islands only brew pub, Front Street Ale House, is located right on the water front at the foot of the ferry terminal overlooking the harbor. This is our 1st stop in the islands, and of course I'm ready for a craft beer when we arrive at the guest dock at Friday Harbor Marina. The building has food service and a bar downstairs and up, but we prefer to sit upstairs, as the view of the harbor is quite nice. A lineup of Ales including: Haro Strait pale Ale, Grand Banks Amber, Raging Main, (an American strong that will warm you to the toes), are just a few of the styles brewed here. Great food, a great view of the harbor and the atmosphere of this Pub, makes it an enjoyable experience every time we visit. New for 2003, Front Street Ale House has a new Brewer and a new Ale. Royal Marine IPA will be a regular Brew for the pub. This beer has become my favorite, as I enjoy a good American style IPA more than any other Beer. It has just the right amount of bittering and a healthy dose of flavor hops to finish Sadly the front street ale house has closed due to the landlord asking for way to much increase in rent.
Widmer Brewery and Brew Hause Pub
What can I say about Widmer? Best brewery tour, huge production, one of the oldest and first breweries in Portland. The flagship beer is Widmer's Hefewiesen but this innovative brewery has put out some awesome beers lately. My Personal favorite is Brrr, a 7.2 ABV Red ale that is perfect in every way, except that it is seasonal. Also the not to miss, Brrr barrell aged bourbon at around 9.2%. As I write this I am hoarding my last two short cases as it is already off the retail shelf....in February? Come on guys! brew it year round! The latest venture in IPA for the brewery is a rotating IPA series that changes during the year. My Favorites are X-114, a big citrus hoppy ale and the Falconer's IPA with it's nice hop essence. The latest is O'RYELY, a rye IPA. Deadlift. or Nelson Imperial IPA is also outstanding as well as the other offerings from Widmer.
British Columbia Canada.
Victoria is one of our ports of call while island hopping around the southern gulf island in Canada. It is always entertaining to tie up the boat and stay a couple days at the government dock right below the Empress Hotel. We are greeted every year by a friend who enjoys a visit and tasting of some of our homebrew when we arrive. Due to the flexibility of his long lunch breaks and freedom to have a beer for lunch, we won't mention his name here. (See ya in the summer...... 1 ocean 3!) The Pubs & Breweries mentioned here, are within walking distance of a boat moorage. When we get a chance to drive up we want to also visit the Longwood in Nanaimo, and Salt Springs brewing Co- Salt Spring Island, as well as others on the mainland.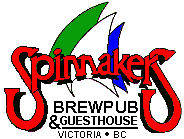 Spinnakers Located on Catherine street in Victoria, Spinnakers is Canada's oldest licensed brewpub, opening in May of 1984. It offers a number of fine ales, some of these being cask conditioned, and has won awards for their beer as well as best BrewPub in Victoria. The Pub overlooks the inner harbor of Victoria, and is a converted old Turn of the century house. When you check their web site, you'll notice that there is a picture on the opening page that changes between a photo of the building and a view looking at the harbor. The small inlet of water stretching in toward the bottom of the photo is where we like to beach our small runabout during a visit from the main dock under the Empress Hotel. The view from the deck while sipping on a fine Ale is beautiful and also allows us to keep an eye on our little inflatable and the progression of the tide! Try the Dunkle Wiezenbrau for a nice dark wheat beer, or the Oatmeal Stout or Mitchell's ESB for a cask Ale when available.
Hugo's BrewPub & Lounge Located on Courtney Street in downtown Victoria , Hugo's has four house beers including three ales and a lager. Selections include a Pale lager, Pale Moon Ale, Bullet Blonde Ale, and Coal Porter. I enjoyed the Coal Porter very much. The building is open and spacious, with a night club atmosphere.
Swans Pub, Restaurant, and Hotel / Buckerfield's Brewery Located on Pandora Ave. in downtown Victoria, Swans Pub serves around eight house beers including pale ale, bitter, brown ale, Bavarian lager, a light Arctic ale, a rich and malty Scotch ale in the style of a "wee heavy", a silky oatmeal stout and others. The brewery is located in the same building and right next door you can buy some of their bottled beer at Swans Beer & Wine Shop. During one of our visits we were given a short tour of the brewery and got to sample an IPA right out of the conditioning tank!
and others that we haven't been to yet!
---
Projects / Brewery Photos / Deer Island Hops
News & Events / More Great Beer Sites